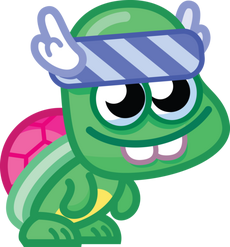 Shelby is the ??? moshling from the set Ninjas.
Slapstick Tortoises are highly trained Moshlings. It's just a shame whoever trained them was as dumb as stump. The only thing they're good at is messing up their moves and tumbling on to their wobbly shells. They can't even tie on their own bandanas. And that's bad because they're supposed to be Ninjas. If only they stopped watching silly kung-fu movies, they wouldn't be so useless.
Species
Slapstick Tortoise
Set
Ninjas
Rarity
Uncommon
Rarity Number
039
Habitat
These gormless Moshlings hibernate under the boardwalk at Groan Bay but often gather to compare (and then mess up) new fighting moves at the Whailing Warf.
Personality
Bonkers, clumsy, gormless.
Likes
Brushing their teeth with toffee and buffing up their shells.
Dislikes
Laying belly-side up and jogging.
How To Obtain
Edit
Use these 3 seeds:
Black Dragon Fruit
Any Magic Bean
Any Dragon Fruit
Run Shelby Run! takes place in a season Shelby's species hibernates.