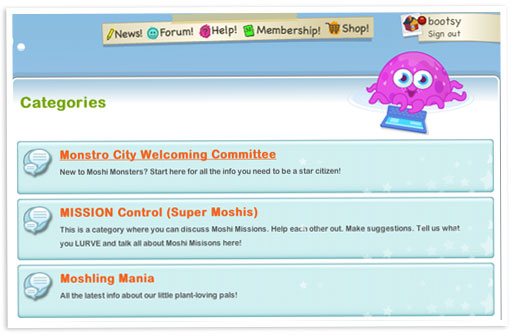 The forum is a place on Moshi Monsters where you can chat.
Sections on the forums
Edit
Monstro City News
Googenheimers Hangout
Moshi Members R Us
The Friend Ship
LOL and ROFL [Deleted]
Contest Central
Outside Monstro City
The Suggestion Box
Roary's Eye-magination Station
MoshiGames.com [Deleted]
Golden Oldies
Moshi TV [Deleted]
Members of a Forum Category
Edit
Many people don't use the forums, but loads who do like to just use one category, or "move" to another one. In most categories members like to call themselves names, and here's a table to show them.
| | | |
| --- | --- | --- |
| Name | Abbreviation | Members' Name |
| Monstro City Welcoming Committee | MCWC | Unknown |
| Mission Control (Super Moshis) | MCSM | MCers/Super Moshis |
| Moshling Mania | MM | Moshling Maniacs (MMc's) |
| Help And Safety Area | HASA | Unknown |
| Moshi Questions And Answers | MQAA | Unknown |
| The Daily Growl Offices | TDGO | Unknown |
| Googenheimers Hangout | GH | Googenheimers? |
| Moshi Members R Us | MMRU | MMRUians |
| The Friend Ship | TFS | TFSers |
| LOL and ROFL | LAR | Unknown |
| Contest Central | CC | CCers |
| Outside Monstro City | OMC | Unknown |
| The Suggestion Box | TSB | Unknown |
| Roary's Eye-Magination Station | RES | RESidents |
| MoshiGames.com | MGC | MGamers |
| Golden Oldies | GO | Golden Oldies |
| Moshi TV | MT/MTV | *Unknown |
On 21/12/11 the forum Moshi TV was created so we cannot confirm a member name, but here are some in the running:
MTians
MTVists
WoollyBlueHooDoos
MTizzlers
MTVers