Ecto is the 3
rd
moshling from the set Spookies.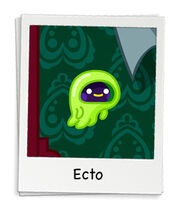 Don't be afraid, Fancy Banshees are among the friendliest Moshlings of all. But don't touch one because their creepy glowing capes are made of electrified wobble-plasma. This mysterious stuff turns things inside-out. Eek! When they're not drifting through walls in the dead of night, they float around collecting Rox dust to keep themselves glowing brightly.
Species
Fancy Banshee
Set
Spookies
Rarity
Rare
Rarity Number
060
Habitat
Scientists believe Fancy Banshees come from a parallel vortex deep within the ClothEar Cloud Formation. It can only be accessed by running around and shouting 'woo-oo-oo' really loudly.
Personality
Mysterious, friendly, spooky
Likes
Rox dust and darkness.
Dislikes
Anyone called Ichabod and being upside-down.
How To Obtain
Edit
Red Love Berries
Black Love Berries
Any Hot Silly Pepper
He featured in his own game, Ecto's cave.